Dr. Mark Koch
Dr. Mark Koch completed his undergraduate studies at UW Waukesha. He attended
Palmer Chiropractic University
in Davenport, IA, where he earned his Doctor of Chiropractic degree in 1997.
Dr. Koch earned his licensure in 1997 by the Wisconsin Chiropractic Examining Board, and maintains his licensure by regularly attending educational seminars in diet, nutrition, exercise, diagnosis, and various chiropractic methods.
In 2008, Dr. Koch earned his licensing in Nutrition Counseling. Dr. Mark Koch earned his Wellness Practitioner Certification from the International Chiropractic Association in 2009. This means Dr. Koch is trained to combine chiropractic with improving lifestyle choices to help you achieve overall health, including diet, nutrition, supplements, exercise, and stretching.
Dr. Koch utilizes 'light-force' chiropractic methods including Activator Method, The Arthrostim Instrument, NeuroMechanical Method, and Pressure Point Massage .
Dr. Koch has practiced in Elm Grove, WI since 1997.
Dr. Koch's Committed to a Healthy Lifestyle
Dr. Koch is married and has two children. He enjoys vacations, spending time with his family, coaching his kids sports teams and the Green Bay Packers. Dr. Koch is 100% committed to health and wellness. His active lifestyle includes regular strength training, running, biking and swimming. Dr. Koch has competed in 5K and half-marathon races, duathlons, triathlons and numerous Trek 100 mile endurance bicycle rides benefiting the
MACC Fund
.

Dr. Koch is an Ironman!

In 2013 Dr. Koch completed Ironman Wisconsin triathlon.


Dr. Koch completed the 2013 Wisconsin Ironman, however for a time Dr. Koch did not know if he'd ever run again. In 2007 he was involved in a water skiing accident suffering a knee fracture- bicondylar tibial plateau comminuted. The internal fixation surgery included a plate and 11 screws to repair the injury. Dr. Koch diligently worked through six months of physical therapy rehab and personal training. (Press Release)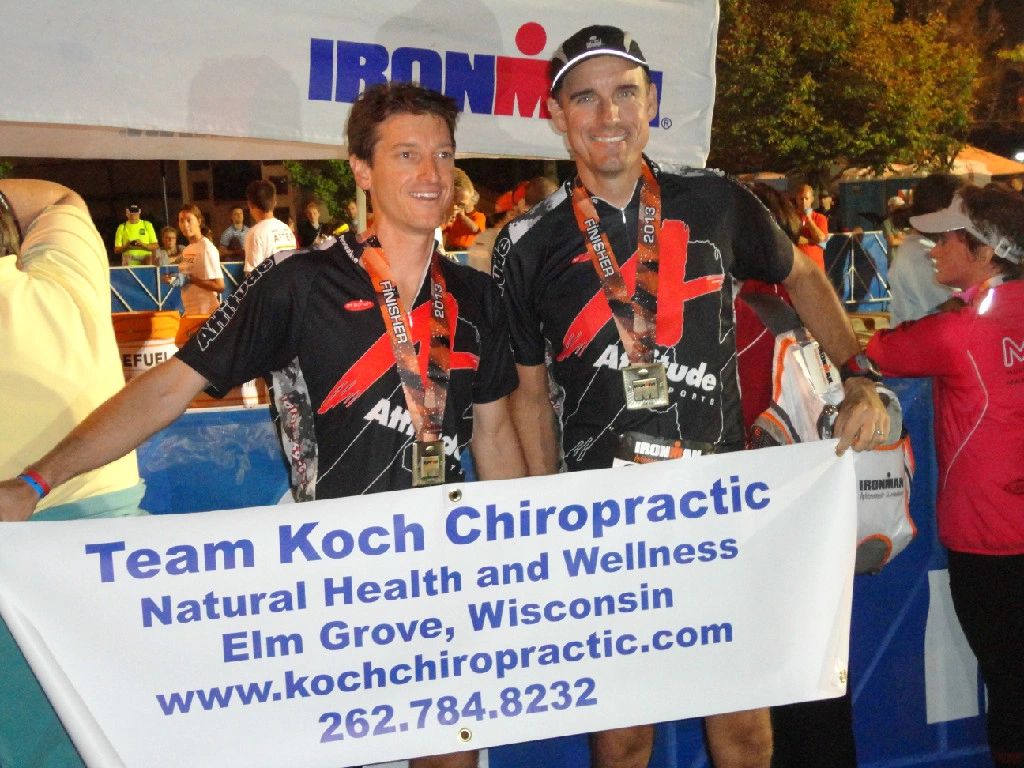 In 2012 Dr. Koch completed the Racine Ironman 70.3 triathlon.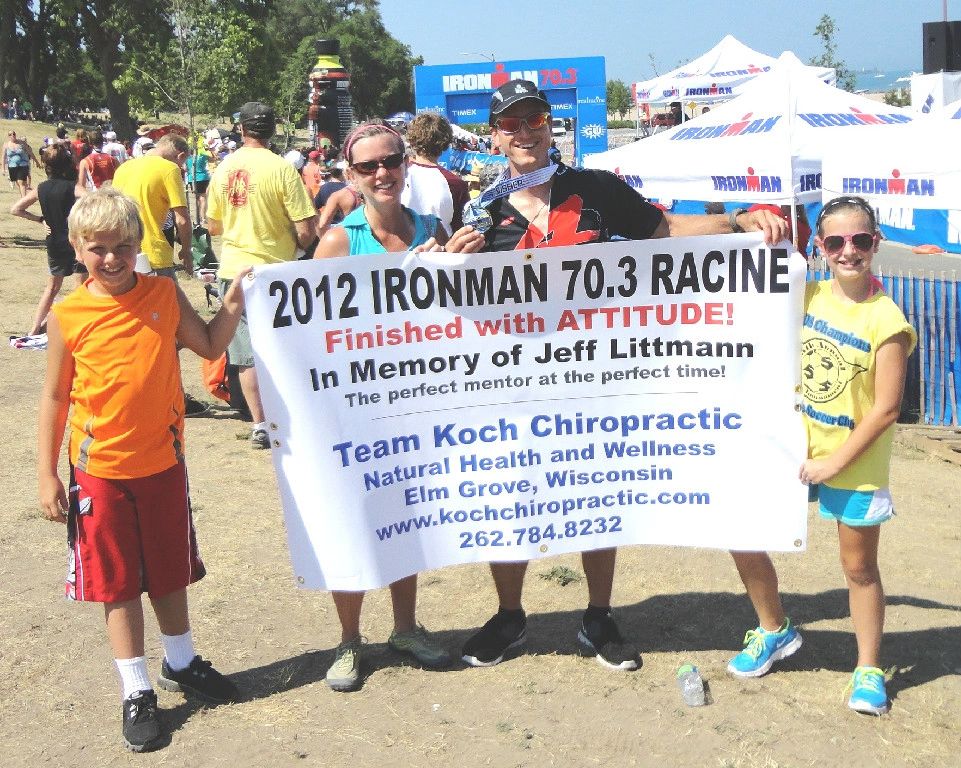 Presentations and Lectures


Dr. Koch regularly speaks at business events, colleges and universities on the topics of chiropractic, nutrition and wellness. If you are looking for a dynamic and passionate speaker on health and wellness please contact Dr. Koch for availability. References and additional testimonials are available for review.

Presentation Testimonial
"The Eating for Energy presentation by Dr. Koch was one of the best I have seen in a while. His energy, passion for nutrition, and his statistics kept the group hungry for more. Very nice work to whomever scouted this speaker. I don't think you would have any problem filling the room if you had Dr. Koch speak again."